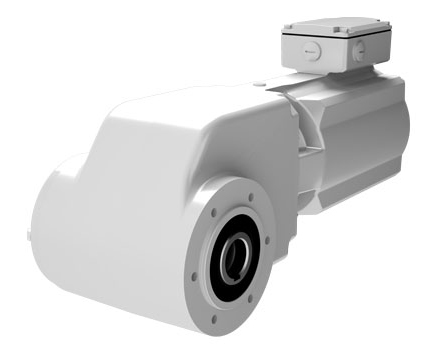 An energy-efficient drive system
The VLT® OneGearDrive® is a highly efficient, permanent magnet, three-phase synchronous motor coupled with an optimized bevel gear box which helps to optimize plant productivity and reduce energy costs.
With only one motor type and three available gear ratios, the motor concept covers all typical versions of conveyor drives commonly used in the food and beverage industry. The reduced range of physical configurations reduces costs and simplifies spare-part storage. Uniform mechanical dimensions reduce engineering and installation time and costs.
The drive comes in two versions: Standard for use in dry and wet production areas and Hygienic for use in wet areas and environments with high cleaning intensity including aseptic and cleanroom production areas.
Supply voltages and power range
3 x 380-480 V…0.75–3 kW
Features and benefits
Up to 40% energy savings compared to conventional systems thanks to high system efficiency
Less noise and no airborne germs and dirt particles drawn into motor and expelled back into the surrounding air due to fan-free operation
Unrestricted use and high protection in wash-down areas thanks to high degrees of protection
Easy to clean due to smooth enclosure design
Fast, reliable connection and lower installation costs as a result of motor and brake connections via terminal box with CageClamp® technology
Resistance to detergents and disinfectants thanks to aseptic coating
Applications
Conveyors.
Brochures